MONITORING PROGRAM OF MARINE LITTER ON BEACHES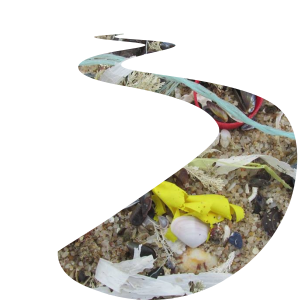 The analysis of the results of the monitoring program in beaches held on the beaches of Continental Portugal is presented in the annual reports. The methodology allows evaluating the density of litter per area, as well as determine the categories and items more abundant and yet what the possible origin of garbage.

The Portuguese Environment Agency through the Administrations of the River Basins Districts and in collaboration with some local authorities (Faro, Ílhavo, Lagos, Pombal, Povoa de Varzim and Torres Vedras) and the European Blue Flag Association (ABAE), established since January 2013 a program for the monitoring of marine litter on beaches.
This program for the monitoring of marine litter on beaches follows the guidelines of the OSPAR Convention and takes place 4 times per year (winter, spring, summer and autumn). Until 2016, was continuously performed at 9 beaches on the Continent - Northern Region: Cabedelo (Viana do Castelo), and Estela/Barranha (Povoa de Varzim), Center Region: Barra (Ílhavo) and Osso da Baleia (Pombal), Tejo Region and West: Amoeiras (Torres Vedras) and Fonte da Telha (Almada), The Alentejo Region: Monte Velho (Santiago do Cacém) and the Algarve Region: Ilha de Faro (Faro) and Batata (Lagos) and in 2017 were included more two beaches: Paredes da Vitória (Alcobaça) and Baleal (Peniche).
The methodology used in the Program for the Monitoring of Marine Litter on beaches allows the evaluation of the density of marine litter per area. The sampling area, depending on the extension of the beach is defined by two linear sections of 100 meters and 1000 meters by the width selected, that maximum extends until the beginning of the dune area.
The results of the monitoring program of Marine Litter on beaches are presented in annual reports:
The results obtained are recorded in the database of the OSPAR Convention and will be used at European Union level in the assessment to make within the 10 descriptor of the Marine Strategy Framework Directive. The results reported are still a target of analysis integrated into the whole Region IV of the OSPAR Convention and shall be published in the Quality Status Report 2020 (QSR 2020).